What mobility solutions for electric vehicle drivers?
Freshmile has been a charging operator since 2010 and has two specialities: the management of charging stations and the support of EV drivers. Since its creation, Freshmile has been committed to providing solutions adapted to the needs of drivers for access to recharging: Pass, mobile app, user assistance.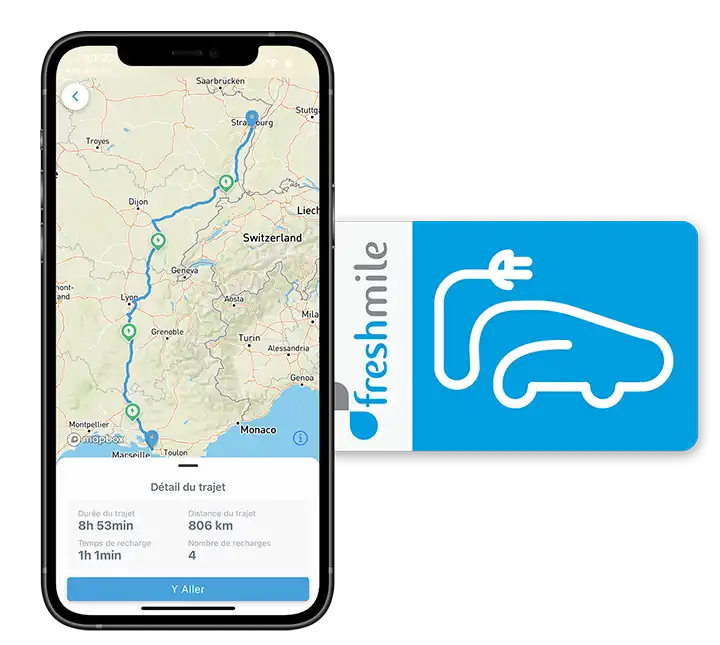 Freshmile Pass
The Freshmile Charging Pass allows drivers of electric vehicles to charge their cars at public charging points, more than 250,000 in France and Europe. It is the most reliable solution to start and stop charging as you are not dependent on the mobile network. It is available as a card or key ring. You can order it from our online shop or directly from the Freshmile app for €4.99. A service without commitment, without subscription.
Mobile app
The Freshmile app completes the Freshmile Pass. Its first version was developed in 2014. Since then, it has continued to evolve: you can find the map of the stations, the history of your charging sessions, the Itinerary feature, the shop, the summary of your orders and your balance in real time. By entering a payment method, you can start your charging directly from the Freshmile app. Thanks to the charging station map, find the available stations near you in real time. All the information you need as an EV driver is in the Freshmile app, that you can download free of charge.
Support for drivers
The Pass and the Freshmile app are the means to charge. But sometimes every driver has questions before, during or after charging. Freshmile has trained electric mobility experts who are available 7 days a week, 24 hours a day to answer your questions and help you if you have a problem at a charging point. To contact the hotline, dial +33 388 68 84 58. This number is always displayed on the stations.
What's in it for us
Since 2010, Freshmile is a charging operator and electric mobility specialist. The services provided to electric vehicle drivers are simple and reliable solutions: the Freshmile Pass, a 24/7 telephone assistance service, the mobile app and all the features it includes are all designed to facilitate access to charging.
Discover the Driver's offer
The Pass and the Freshmile App